Our Dental Blog
Posts for: July, 2017
By Carol A. Cunningham, DDS
July 26, 2017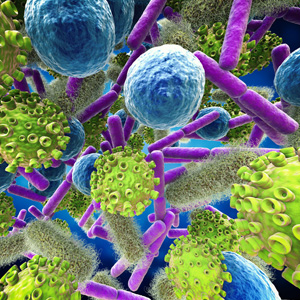 Most people associate bacteria with disease and ill health. But the real story about the trillions of microscopic organisms now living in and on your body is a bit more complicated. With recent advances in genetic code research scientists are learning that many of these microorganisms you're hosting are actually beneficial for you — including your teeth and gums.
Beginning at birth and throughout your lifetime you are continually developing a distinct microbiome — actual communities of bacteria and other microorganisms that inhabit your body. As your microbiome develops it helps train your immune system to distinguish between "good" bacteria that help with digestion and other bodily processes and "bad" bacteria that cause disease.  And it continually adapts to changes in what we eat, the pets we acquire or the drugs we take.
But lifestyle choices like diet can also have a detrimental effect, causing harmful bacteria to become dominant. This seems to be the case with Streptococcus mutans, the bacterial strain most associated with tooth decay. Scientists have analyzed biofilm (plaque deposits on teeth) from the pre-industrial era before 1900 and compared it with modern biofilm samples. They've found Streptococcus mutans levels to be much higher in modern biofilm, which they directly attribute to the modern Western diet.
As we gain a better understanding of these findings and of the role of bacteria in our lives, it could change many health recommendations not only about diet but about medications too. In the fight against disease, for example, we've used antibiotics to eradicate infection-causing microorganisms, but with a broad destructive ability that can also kill many beneficial strains of bacteria. It's hoped as our knowledge grows we'll be able to create newer drugs that more narrowly target harmful microorganisms while not affecting beneficial ones.
There's a new appreciation emerging for bacteria's role in our lives. As a result efforts to rebalance a person's microbiome when they become sick may eventually become a critical element in healthcare treatment strategies. The benefits of this strategy for health, including for our teeth and gums, could be quite impressive.
If you would like more information on the role of bacteria in oral health, please contact us or schedule an appointment for a consultation. You can also learn more about this topic by reading the Dear Doctor magazine article "New Research Shows Bacteria Essential to Health."
By Carol A. Cunningham, DDS
July 11, 2017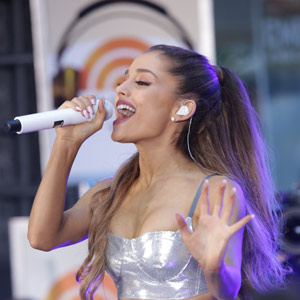 Via a recent Instagram post, pop diva Ariana Grande became the latest young celebrity to publicly acknowledge a dental milestone: having her wisdom teeth removed. The singer of hits such as "Break Free" and "Problem" posted an after-surgery picture of herself (wearing her signature cat-eye eyeliner), with a caption addressed to her teeth: "Peace out, final three wisdom teeth. It's been real."
With the post, Grande joined several other celebs (including Lily Allen, Paris Hilton and Emile Hirsch) who have shared their dental surgery experience with fans. Will "wisdom teeth removal" become a new trending topic on social media? We aren't sure — but we can explain a bit about the procedure, and why many younger adults may need it.
Technically called the "third molars," wisdom teeth usually begin to emerge from the gums between the ages of 17 and 25 — presumably, around the same time that a certain amount of wisdom emerges. Most people have four of these big molars, which are located all the way in the back of the mouth, on the left and right sides of the upper and lower jaws.
But when wisdom teeth begin to appear, there's often a problem: Many people don't have enough space in their jaws to accommodate them. When these molars lack sufficient space to fully erupt (emerge), they are said to be "impacted." Impacted teeth can cause a number of serious problems: These may include pain, an increased potential for bacterial infections, periodontal disease, and even the formation of cysts (pockets of infection below the gum line), which can eventually lead to tooth and bone loss.
In most cases, the best treatment for impacted wisdom teeth is extraction (removal) of the problem teeth. Wisdom tooth extraction is a routine, in-office procedure that is usually performed under local anesthesia or "conscious sedation," a type of anesthesia where the patient remains conscious (able to breathe normally and respond to stimuli), but is free from any pain or distress. Anti-anxiety medications may also be given, especially for those who are apprehensive about dental procedures.
So if you find you need your wisdom teeth extracted, don't be afraid to "Break Free" like Ariana Grande did; whether you post the results on social media is entirely up to you. If you would like more information about wisdom tooth extraction, please call our office to schedule a consultation. You can learn more in the Dear Doctor magazine articles "Wisdom Teeth" and "Removing Wisdom Teeth."